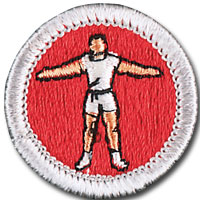 Make up Personal Fitness Merit Badge Fitness Assessment, Tue, 17 Sep, 6:30 pm, EMS
For those Scouts that need to complete the final fitness assessment for the Personal Fitness Merit Badge we will meet at Eagleview Middle School this Tuesday, 17 Sep, at 6:30 pm.  We'll complete the running portion of the assessment and then head over to the church for the weekly meeting.  We'll complete the situps, pushups, pullups, flexibility, and body composition assessments at the church during the meeting.
Please wear fitness attire for the run, and bring your Scout shirt!  See you Tuesday!