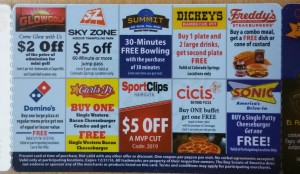 Camp cards are available for the boys to sell as a fundraiser (see picture above for some of the great discounts available). For every $5 card sold, $2.50 will go into their scout account to help fund scout activities. Mary will be at the meeting Tuesday night for interested parents/scouts. You can also e-mail her at therese1963@msn.com for more info or to reserve cards.  Thanks to Mary for providing this opportunity to the boys!
We had a great day today at Ute Valley Park with 12 scouts and lots of parents/siblings on our 5 mile hike.  I had so much fun I forgot to take any pictures, but imagine blue skies, warm temps, great scenery, and a great bunch of boys that conquered the 5 miles with no problems.  Congrats to our newest scouts for completing their first hike and a couple of rank advancement items.
At Tuesday's meeting we'll be hosting Webelo's from Pack 6.  For those scouts that completed the hike please bring your BSA handbook so we can sign off items (bring your handbook to every meeting!).  And….be ready to pick up some Camp Cards to seed your scout account!