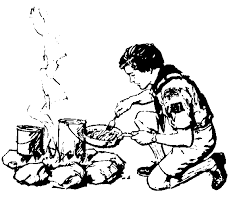 Friday Dinner: Bring your own (Subway or something similar)
Saturday Breakfast: Mini muffins and oatmeal
Saturday Lunch: Bread, jelly, peanut butter, and granola bars
Saturday Dinner: Mountain House Meals and dessert cook off (Make sure dessert is purchased in accordance with scout decisions in the planning meeting)
Sunday Breakfast: Bagels and oatmeal
Snacks: Granola bars and trail mix
*Zip lock bags must be purchased to divide meals before hiking.
Note:
Evan R is buying the food for this trip. 8 Scouts are signed up. By food for 7 because one scout is on a special diet and will bring his own food. Budget is $12 per scout. There was an additional dessert cook off between patrols. Make the dessert cook off items are purchased in accordance with whatever the planning meeting decided.
Adults will bring their own food.
Scout's can bring some of their own additional snacks if they choose.
Ethan G.
Troop Scribe