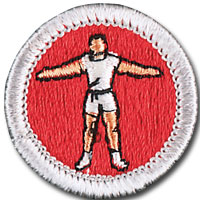 For those Scouts that need the personal fitness merit badge we will work on requirements over the summer.  We started the badge last week for Scouts that were at the meeting.  We distributed worksheets and assigned some homework for the Scouts.
All Scouts that participate in this merit badge will require a physical exam that remains current for the duration of the badge.
Merit badge requirements include taking initial aerobic fitness, flexibility, muscular strength, and body composition tests.  Scouts will then complete a 12 week fitness training program of their design and then reaccomplish the tests to measure improvement.
For Scouts that weren't at the last meeting I can get them moving on the merit badge next time we meet.
Jon Ullmann