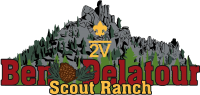 For the summer of 2015, Troop 287 will be going to Camp Jeffrey (Ben Delatour Ranch) up near Fort Collins, CO, which in Longs Peak Council. Website: http://camps.longspeakbsa.org/bdsr/
Please check this web page regularly for updates and information.
Downloads
Download: Camp Jeffrey Leaders Guide (.pdf)
Download: Health Forms
Required Addition to Physical: PW_Imm_Certificate-of-Immunization
Scout Status
So far, this what we have for each scout and adult attending:
Add scouts and adult leaders …
Friday Night Dinner
Visitors are invited to join us in Camp Charles Jeffrey on Friday night for the Family Dinner. We need advanced reservations and payment for the Friday night meal by Tuesday at noon of the week you will be attending. You can buy Friday dinner passes under the day passes option in your registration on Camper. Friday Night Family Dinner Only: $8.00 per person.
Day Passes for Visitor Fees
Visitors and guests are welcome at the Scout Camp during any day of the week. Anyone who is not on the Scout or Adult summer camp roster is considered a guest. All guests must check in at the Scout Camp office upon arrival to camp and must check out when leaving.
Visitor day passes are $35 per day for adults and guests that come for just a day (or two or three). We will need to know when they will be in camp and for how many days at least two weeks prior to arrival to have food, as dining hall availability allows.
Day Passes
You can purchase day passes for the visitors who will be in camp. They are $35/day and can be added to your registration by checking the "Day Passes" box. Simply enter in the number of passes you would like.
Adults that plan to camp with the troop (regardless of the number of days) in the troop's campsite must have the required Leader Reference Form and Character References. They will also need a Health and Medical record, but will not need Part C (Physicians form) unless they will be staying more than 72 hours. Upon check-in at the camp office you will be required to check-in all medications to the Camp Health Officer.
Map
The drive to Camp Ben Delatour Ranch is about 2 to 3 hours from Colorado Springs depending upon traffic through Denver.