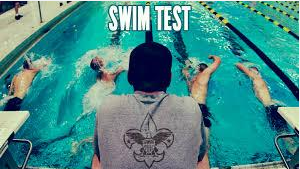 Troop,
I have spoken to the USAFA Fitness Center and arranged access to the pool for the Troop to complete BSA Swim Tests. The Academy said they can accommodate 15 on Tuesday May 30th from 6:30 to 7:30/8:00pm. They are allowing us use free of charge.
Northern Tier participants are a priority as this is a requirement to attend that adventure. I would like to open up the remaining slots to anyone who needs a swim test for a water related merit badge at summer camp or rank advancement. Available slots will be first come, first served. Any additional slots can be for anyone who wants to come out for a little swim.
Please use the signup below. Make sure you put in the notes why you need a swim test so we can make sure we prioritize those who need them. There are 20 slots, but we can only accommodate the 15 most necessary justifications.
https://www.signupgenius.com/go/20F0C4BA8A828A4FD0-bsaswim
The USAFA pool is located at the FITNESS AND SPORTS CENTER 5234 ASPEN DRIVE USAF ACADEMY, CO 80840.
Please arrive at 6:00pm so we can be changed and ready to jump in at 6:30pm sharp.